before we get started here, a couple professional notes.
"Eden"
is, as of early this month, up to ten thousand listeners. this makes the cover a front-runner for my most visible work thus far, although the true reach of my questionable dabblings in fan-art during high school can never be estimated. sadly, i suspect that some of those reached more humans.
also!- Phil's publisher approved the final design for the
Crescent
cover art. it's all done save the fonts and slated for a 9 VII print debut. lock it down on Amazon on launch day, and help a brother out. and now... the show. *ahem*
when the world sees fit to generously bestow upon me less than one week between the culmination of spring semester nonsense and the advent of
summer
semester nonsense, my mandate is clear. get the hell out of Tallahassee.
and thus was born another ill-conceived but epic trip up the east coast, from Philly back "home" to DC and on to Baltimore. there was much baseball. there was
rain
, in unwelcome and unending drips and squalls that aborted the Mets @ Phils game with extreme prejudice. there were reunions with old friends, joyous meetings with new ones, and fourteen thousand beers. there was the time i hung out in Poe's deeply disturbing basement, complete with false chimney. and there was climbing above rickety catwalks above the shark tanks, behind the scenes at the Nat'l Aquarium at Baltimore.
and then there were these two tales.
"Phil Rossi Says Dance, Bitches"
i try to keep it clean[ish] here at Five Fathoms, but direct quotes cannot be altered in the name of Puritanical ideals. haha. yes, one night over in Arlington i met up with my infamous partner in crime, one Phil Rossi. i give you evidence of these deeds, or the tenth attempt to drunkenly take a picture of this dark alliance at the bar.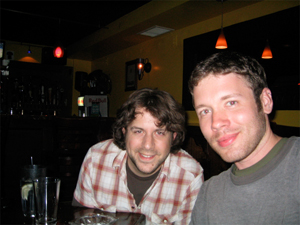 Phil is my kind of gentleman - wildly creative and hilarious with a side of rock star and just a touch of the sleazy. outstanding. we related tales of mayhems and madness up in DC and the dirty south, and he offered some insight into the inner politics of the podiobooks community. he dropped the "Eden" numbers and cover feedback, which were both surprising and humbling.
at one point later in the night, we recorded my appearance on his video podcast, to debut at some unknown date. i have no doubt that it will be embarrassing beyond reason - dark to the point that my head will appear as a blacked-out mafia witness on tv, and half incoherent due to the wiles of the Sierra Nevada brewery. Phil, you'd better edit the hell out of that thing.
you have not seen the last of us, gentle readers.
A Happy Meeting With My Favorite Billionaire
had tickets to four baseball games across those three cities. this took place at the
one
that was played to completion (of the three that started at all, ugh).
Astros at Nationals Park. sixth inning, slay a hot dog and nestle back into my gray plastic poncho. rain's threatening to kill the game at any minute, so people are bailing and the three rows in front of me are empty. look down and see a guy a bit older than my dad walking across the row with a woman and another dude in a trench coat. he stops and talks to Trench, and the woman looks up at me. apparently she sees my eyes bug out as i recognize the first guy, and mouths to me, "Do you know who that is?" i nod and say, "That's Drayton McLane, owner of the Astros!"
as if on cue, he looks up and sees my Astros hat peeking out from under the poncho. he smiles and i shout, "Mr McLane! How are you doing, sir?" he laughs and replied, "You recognized me? Son, you're the smartest kid at this ballpark." I laugh and ask if I can come down and shake his hand, and proceed to climb over the three rows between us.
we stop and talk for a minute - he's a really funny, charming gentleman. "Do you mind if we get a picture?" I ask. "My dad will flip out." sure, he says, and after i hand the camera to Trench i pull off the poncho and he sees that i have my 2005 World Series jersey on under it. laughing hard, he says, "Son, you're like Superman!" hahaha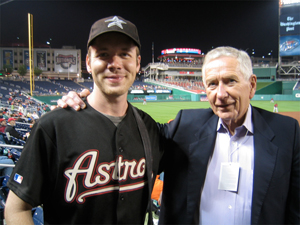 before the game, i commanded one of my favorite players - Hunter Pence, my age - to "power slam it" [as seen on Get The Picture], and extended my fist. he obliged, and onlookers were greatly amused.
christ, i miss DC already.