enjoy this dark night.
i did in fact finish my story, "The Prisoner," in time for Halloween. but. BUT.
as mentioned in the previous post, this work is to be displayed in a gallery exhibition next March to April. i have decided to hold back publication until the end of the run to encourage people to come see the monster live in person. i am proud of this one. it is my darkest and most troubling story yet, sown deep with every bit of narrative and artistic structure i've cobbled together in my head over the years, and i hope that it works. i plan to publish it here on Walpurgisnacht as a compromise to the season.
here is one more panel for the road. i am sure that everything will be fine, just fine.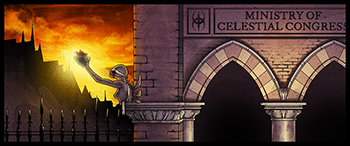 this was perhaps the most beautiful fall in memory. while the circumstances of adulting may have prevented me from fully immersing myself in the Halloween season, i will try to savor every last fading black wisp and i hope that it treats you well.
/.n [while again listening to the Bloodborne soundtrack. of course i am.]