just a quickie today. went to a house party Friday night that featured a graffiti wall. i could not resist.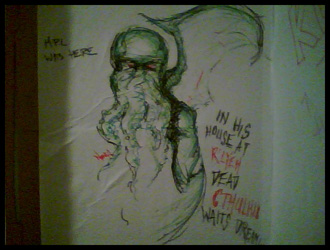 lots of weird stuff there, including a mad, immense purple face drawn by an /exceedingly ripe/ hippie probably held in thrall of mushrooms. my "Portal" joke [not pictured] was grokked by... no one, although the hostess delighted and fooled me by enjoying it anyway.
::sigh::
photo courtesy of sweet Palette.